FAQs
What can we help you with?
Have a question about anything to do with the process of getting finance, you'll find the answer here. If you need more information, give us a call.
Advantage Finance was founded in 1999 and has grown to be one of the UK's leading independent providers of motor finance to customers across the UK. From our offices in Grimsby, where we employ approx. 200 staff, we have helped over 250,000 customers to purchase motor vehicles - often in circumstances where other lenders refused. We aim to provide excellent levels of personal service and are proud of our outstanding customer service reviews. We are authorised and regulated by the Financial Conduct Authority.
We provide finance for most types of private vehicles, electric vehicles, small commercial vehicles, motorcycles (125cc and above) and caravans. Motor vehicles with mileages up to 120,000 at the point of purchase can be considered (50,000 for motorcycles) and may not be more than 15 years old by the end of the finance agreement term.
Yes. Providing that the dealer has the required authorisation by the FCA to act as a credit broker you are free to buy your vehicle from a dealer of your choice.
No, all vehicles that we finance must be purchased from any reputable UK dealer that holds an FCA authorisation to act as a credit broker.
No. We don't offer any warranties or other insurance products, however these may be available directly from the dealer or from independent sources.
For vehicles bought in person, there is no statutory cooling off period and we therefore recommend that you consider your choice of vehicle carefully to make sure that it fully suits your needs. We also strongly recommend that you inspect and test drive the vehicle carefully before taking delivery, to ensure that you are fully satisfied with its overall condition. If you still want to change the vehicle after purchase, please speak to us directly for further assistance.
Yes. You need to understand the following important points:
During the life of the loan agreement, the vehicle will be owned by us. Until the loan is fully paid off, you must not sell it.
You must arrange for the vehicle to be insured under a fully comprehensive insurance policy.
You must have a full UK driving licence.
You must not take the vehicle outside of the UK without our permission.
You will be responsible for the servicing, maintenance and repairs on the vehicle.
The type of motor finance agreement we provide is called Hire Purchase (HP) agreement. This is a popular and straightforward type of agreement in which we hire the vehicle to you for the duration of the agreement after which the ownership transfers to you. Unlike a PCP, there is no large payment due at the end, and payments throughout the term remain fixed. We offer HP terms of between 24 to 60 months which allow payments to be fixed to suit your budget.
Yes. In order to consider an application, you need to meet the following basic requirements:
Live as a permanent resident within mainland UK and hold a UK bank account.
Be aged between 22 and 65.
Be in full time employment (30 hours per week+).
Earn a minimum of £1,250 per month (excluding any benefits).
Not be currently bankrupt, in an Individual Voluntary Arrangement or subject to a Debt Relief Order.
Have a full current UK driving license.
We believe that having a poor credit history shouldn't necessarily prevent you from unlocking the opportunities that owning a car can provide and we will always consider your application regardless of your financial history. We specialise in providing motor finance to people who may have had previous credit problems − maybe due to circumstances outside of their control − and understand the difficulties that this can create.
We offer loans between £2,000 and £15,000. Please note that we provide credit responsibly and will only ever offer a motor finance deal that is affordable for you.
Although paying a deposit is likely to reduce the amount of finance required (resulting in lower monthly payments), we do not require a deposit to be paid in order to provide finance. In every case, we will check the value of your chosen vehicle and will make sure that you are not being asked to pay too much for it.
Understandably you will want to check beforehand that applying for finance doesn't impact your credit score. When you apply to us we will carry out an eligibility check. This includes undertaking a 'soft search' with credit reference agencies, and it won't appear on your records or impact your credit score in any way. If you then decide to proceed with your application, we will perform a full credit search. This check will be noted on your credit history, however a single search such as this is unlikely to impact your credit score in any way.
Most applications we receive come directly from motor dealers or motor finance brokers, following an application made directly to them. You can, however, apply to us directly by filling in our online application form which can be found here > Apply Now
We use a sophisticated automated assessment process that can usually provide an initial decision within a few seconds. Once approved and terms agreed, the loan can often be completed on the same day.
We do not charge a single rate of interest because when we make an offer of credit to you, we will set an interest rate that is based on individual factors such as the amount of the loan and our assessment of risk. The APR (Annual Percentage Rate) is a rate of interest that is calculated to allow the comparison of different credit offers from different lenders and will be clearly set out in the pre-contractual information and the agreement itself, along with the total amount repayable.
Our credit, income and affordability assessments are usually able to be completed electronically so we are unlikely to require any additional information from you, however if we do we will let you know. When you sign the documentation, this is done online, and the process includes an identity check which will require your bank card to be validated.
Once the agreement is set up, we will pay the dealership directly.
If your finance agreement has been arranged following an introduction from a motor dealer or motor finance broker, then it is likely that we will pay them a fee in return for your introduction to us. Please note, however, that any fee paid is independent to the agreement and does not have any affect on the overall cost to you, which will be the same as if you had applied to us directly. Full details are set out in the pre-contractual information.
Your payments are collected monthly by direct debit. You can make additional payments at any time, either via our website or over the telephone.
We try to contact new customers as part of our customer services policy. This is simply to welcome you to our company and to make sure that you are happy with the vehicle, the agreement and to answer any questions you may have.
Our dedicated Customer Services Department is available during normal opening hours. You can contact us by telephone, email or by completing our online enquiry form.
We will send you an annual statement on each anniversary of your agreement. You can also check your agreement at any time using our website, or by contacting our Customer Services Department directly.
In accordance with the Consumer Credit Act 1974, you have the right to repay your agreement early, at any time prior to the date of your final instalment. The easiest way to obtain a settlement figure is to go directly on our website. Simply click on 'Manage my account' and follow the on-screen instructions.
Your early settlement figure is calculated in accordance with the rules of the Consumer Credit Act 1974. This means that you may be entitled to a rebate of some of the interest charged had the agreement run to the end of its term. Further details, including the amount of any rebate, will be set out in the letter that we provide when a settlement figure has been requested.
If your car is stolen, damaged or written off and it's on finance with us, please let us know as soon as possible. If required, we will help you to manage any insurance claim and work with the insurance company involved to clear your outstanding balance. Once this is settled, you will have the option to re-apply for a new vehicle with us if you wish.
You have certain rights under the Consumer Rights Act 2015 in respect of the quality and durability of the vehicle and we will always try to ensure that these rights are correctly upheld. We therefore ask that you let us know immediately if there were issues with the vehicle which were there at the point of sale, or that develop shortly afterwards. Please contact our Customer Services Department. We will assign a Case Handler who will gather all the facts, speak with the supplying dealer and may arrange for the vehicle to be inspected. If we agree that the vehicle was supplied in an unsatisfactory condition, then we will arrange for the prompt repair or return of the vehicle.
If you are unhappy with any aspect of our service please speak to us as soon as possible so that we can try and address your concerns and, if possible, put things right. If you wish to make a complaint, you can find a copy of our Complaints procedure here.
You can find out how we use and process your data > here
If at any time you are having, or expect to have, any difficulty in making your payments then we encourage you to speak to us as soon as possible. We are always on hand to provide help and support and can offer a range of potential options. Our advisers are also trained to help customers who find themselves in vulnerable situations. Please see our 'Dealing with Debt Problems' page > here for more information.
You can find a list of useful independent sources of help > here
We are required to report the payment history of your agreement to credit reference agencies. Late or missing payments could adversely affect your credit rating and make it more difficult to obtain credit in the future.
If you feel that you can no longer afford the vehicle, then please speak to us as soon as possible. We can advise you on the best course of action for your particular circumstances, which may include the voluntary termination of the agreement or the voluntary surrender of the vehicle.
We appreciate that dealing with a change of vehicle before its finance agreement has ended can seem a daunting task. We have a dedicated team available who can discuss your requirements and help you through the process of changing over to a new agreement. We can deal directly with the supplier of the new vehicle and help you in setting up a new agreement and dealing with the repayment of your existing agreement. Please give our Refinance team a call on a 01472 233214 or email us at refinance@advantage-finance.co.uk.
If you have made enquiries about changing your vehicle you may have been told that you have negative equity. This means that the outstanding settlement figure on your existing vehicle is more than a dealer is willing to offer you in part-exchange for it. Although this could make the process more difficult, please speak to us about your specific circumstances as we may still be able to help.
If you would like to explore the option of an additional vehicle to run alongside your finance agreement then we have a dedicated team available to discuss your requirements and assist you. All we ask is that you have made a minimum of 12 payments on your current agreement. Please give our Refinance team a call on 01472 233214 or email us at refinance@advantage-finance.co.uk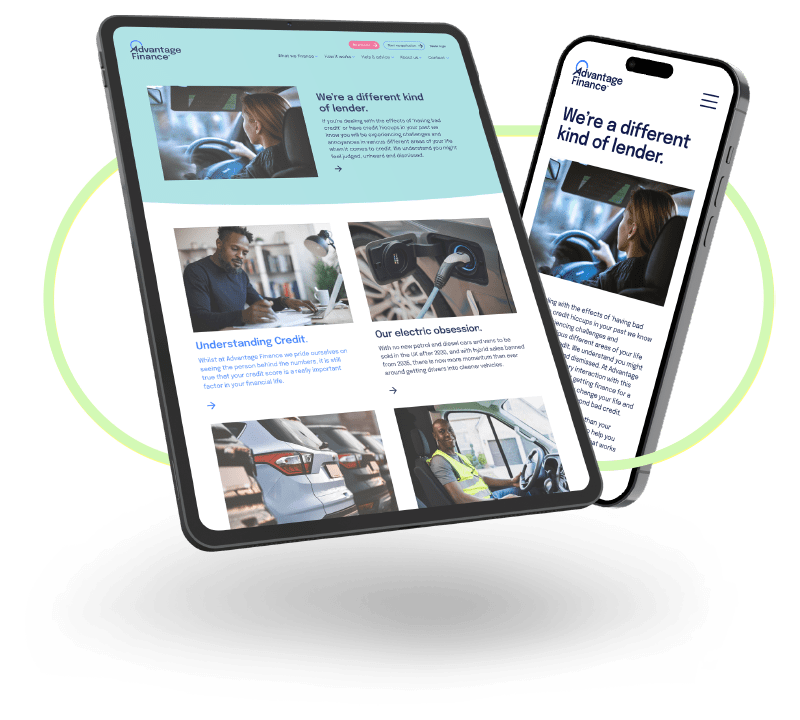 Pop over to our blog.
Find more interesting articles and stories in our blog.
Read more